It is funtime for seniors; seniors have a lot of time to themselves to engage in a lot of indoor and outdoor games. Apart from the popular mental and physical benefits of games to seniors, there are other uncommon ones that are not often considered.
Before we take a drive through to the best at home games for senior citizens, let's take a quick view at the benefits of games-indoor and outdoor games for seniors. Many seniors might just overlook this post without knowing the exciting benefits that eludes them.
What are the benefits of home games for senior citizens?
Improved memory
Oftentimes, seniors rarely have activities that flex their brain. While working, people tend to engage in a lot of activities where we work our brain thereby leading to improved memory. But when most seniors after retirement rarely engage in such mind tasking activities which leads to a high case of dementia.
Board games and indoor games helps to work the part of the brain responsible for complex thoughts and memory formation. Creative indoor games can help the brain retain better and also assist in cognitive association.
Reduces the risk of Diseases
A study published in the New England Journal of Medicine highlighted the importance of games as a possible way that seniors can reduce risk of dementia. Games are more than just fun as most people will consider rather, it provides an avenue to keep your memory sharp and active.
As funny and unbelievable as it may sound, indoor games are a great way to keep the minds of seniors active thereby exercising the brain and building a stronger brain. A stronger brain has more ability to prevent diseases like dementia and alzeihmers.
Create Happiness
The sole aim of life after retirement is to live a happy and comfortable life with loved ones. Indoor games are great ways to stay happy and get together with friends. Most indoor games require that seniors play with other seniors.
Interacting with other seniors helps to free all worries and release burden from your mind. Games help seniors to stay active and also stay happy in the process.
Seniors most of the time need a reason to go out and socialize with other seniors. Games are a great excuse for you to go out and mingle with other seniors. With games, seniors can go out and socialize with others in the community. During this process, seniors can make more friends with other seniors.
Lower the Blood Pressure of Seniors
This is another exciting health benefit of games for seniors. A study in the medical field showed that laughter and feeling of enjoyment releases chemicals called endorphins. These released chemicals help the body to relax and also improve blood circulation which in turn reduces the blood pressure.
Above are some of the exciting benefits that we all tend to overlook. Games are more than just things to fast forward the time but they also provide health and mental wellness benefits. Now, let us take a look at indoor games for seniors.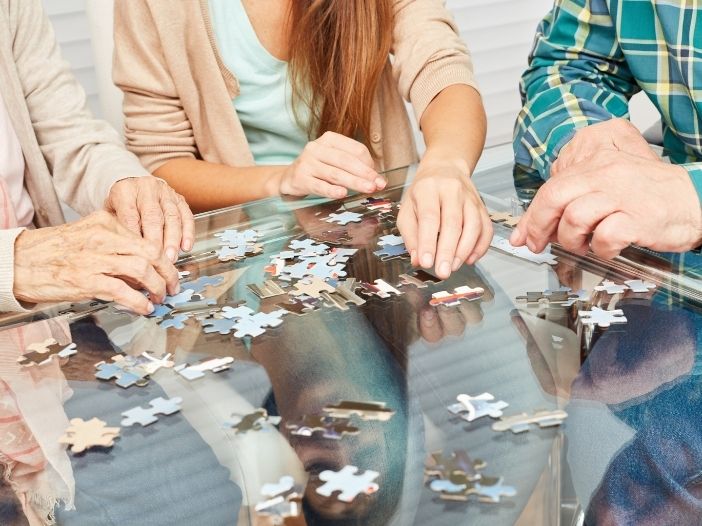 Puzzles and Board Games
Puzzle and board games are some of the most prominent games among seniors. Although, the intensity of brain tasking of puzzle and board games can vary as some may require you to move a lot of pieces. There are simpler and less mind tasking board games that seniors can play.
Puzzle and board games help to gather seniors around and those that are not playing can associate with others. Another huge benefit is that most board and puzzle games require strategies which is a great way for seniors to build their cognitive association.
With puzzle and board games, seniors with limited mobility can also play. They only need to get someone to play their suggested moves. In the end, everyone is happy and also gains from the mental benefits of the games. Some of the recommended puzzle and board games for seniors include:
Backgammon
This is one of the oldest board games; its existence dates as far back as 5000 B.C. Backgammon can be played by two players and as for the difficulty of learning, it is fairly easy to learn.
Scrabble
Scrabble can help seniors sharpen their vocabulary skills. The game can be played by two to four players with points allotted to each of them. Scrabble is another board game that helps seniors stay mentally sharp.
Qwirkle
This is a board game that involves matching tiles with different shapes and color. Qwirkle is easy to learn and does not take too much time when playing. For seniors that don't like to sit around for too long, this is the right game.
Ubongo
Ubongo is a puzzle game that requires seniors to race against other seniors to finish tasks. Players are required to form geometric interlocking shapes to add to their gems. Ubongo can be played by two to four players.
Chess
Chess is another old board game that can bring seniors together and also influences the mental aspect. Chess has various pieces of players; the aim is to protect your king from the other player and at the same time capture the other players' king. Although chess is not that easy to learn but with time seniors can get the scope and strategies.
Checkers
In a game of checkers, there are twelve pieces for both players. The sole aim of the game is to capture all the pieces of your opponent. Checkers can only be played by two seniors.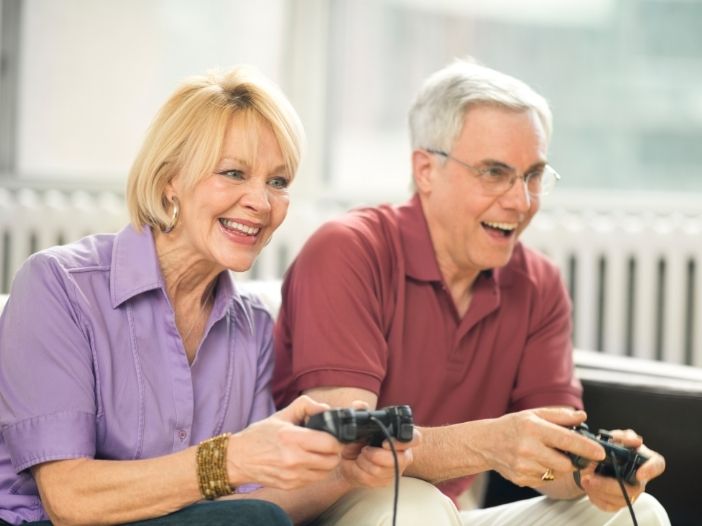 Video Games
Let's start by painting the image most people have towards gamers; glued to a couch holding a pad for hours. As true as this can be in some cases, it is not totally true. Over time, some seniors have grown to discover the health benefits of video games.
Not to consider the fun and social benefits video games bring to the table, the way it can help seniors to stay mentally active. A research by the University of Montreal studied how video games can help reduce the risk of diseases like dementia and alzheimer. Some of the recommended video game for seniors include:
Word with Friends
This is similar to scrabble; it is a crossword game that can be played on mobiles and pc. Seniors can challenge their friends at any time and improve their memory.
Bejeweled
The game is designed in level to increase difficulty and mind tasking. Bejeweled involves matching gems of different colors and shapes to form rows hereby earning points to move to the next level.
Brain Age
Brain Age is a game that was designed for the handheld Nintendo system. The game provides easy accessibility and challenges your memory skills.
Candy Crush Saga
Candy crush is a game that has found popularity in the past years. The game involves matching colors in two's three's, four's, and five's each providing different rewards. Each level is designed with a fixed time and number of moves to complete the task.
Plants vs zombies
This is another mind tasking game yet very easy to learn and fun to play. You are required to protect your home from zombies by planting plants in strategic places. The aim of each stage is to prevent the zombies from reaching your home.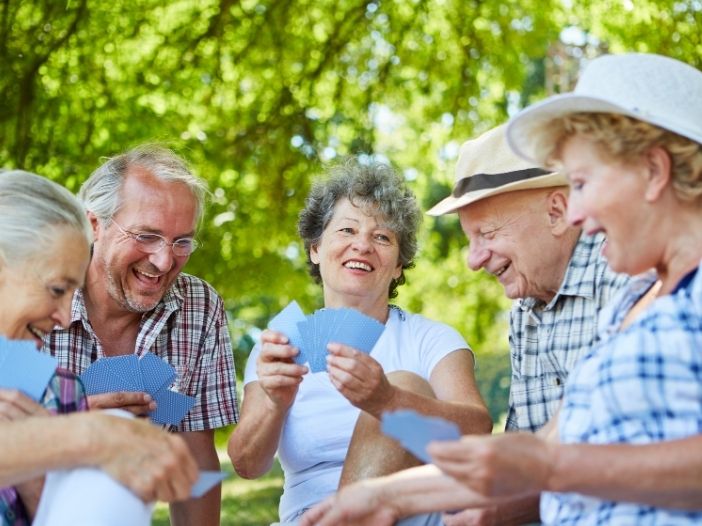 Card Games
Card games are the best when considering accessibility and portability. Card games don't require electricity and can be carried along anywhere seniors go. Another major benefit of card games is that it accommodates a lot of players hence, a great way to gather seniors around.
Card games have varying rules which are easy to learn. There are a lot of card games that can help seniors retain their memory strength and also socialize. Some of the card games include:
Spades
Spades was invented in the 1930's. In a game of spade, there can be as much as six players. Spades is a plain trick game in which spades are always trump.
Old Maid
A card is designated as the "Old Maid," each player is expected to discard their cards quickly by dropping pairs of matching cards until there is a player left with the Old Maid.
Go Fish
This card game can be played by as many players as possible. Each player is dealt equal number of cards; the aim of the game is to collect as many four-of-a-kinds as you can by asking other players for the cards.
Bridge
Bridge is a partnership game in which two seniors can work together to defeat another team. The game requires "bidding" and winning "tricks" to win a game.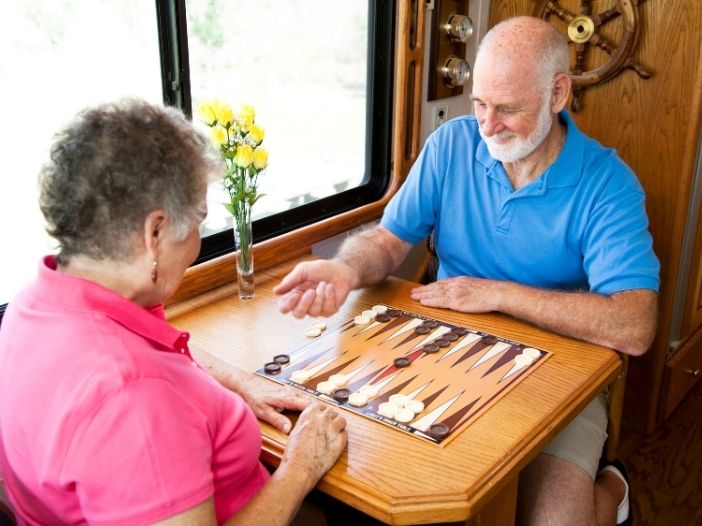 Group Indoor Games
Seniors can also decide to organize regular group indoor games. This type of games is common in assisted living communities and nursing homes. Several games are made available in this type of gathering so that seniors can participate in any one of their choice.
Group indoor games can also be organized in senior birthday or retirement party to spice things up a little and to keep everyone happy and engaged. Some of the group indoor games are:
Bingo
This is a great group game that helps seniors to stimulate their sense of seeing, hearing, and touching.
Trivia games
Trivia helps to improve the sense of competitiveness amongst seniors. Seniors engage in various topics which helps to broaden their understanding.
Sudoku
This is a group game aiming to enhance seniors problem solving skills and ability to recognize patterns.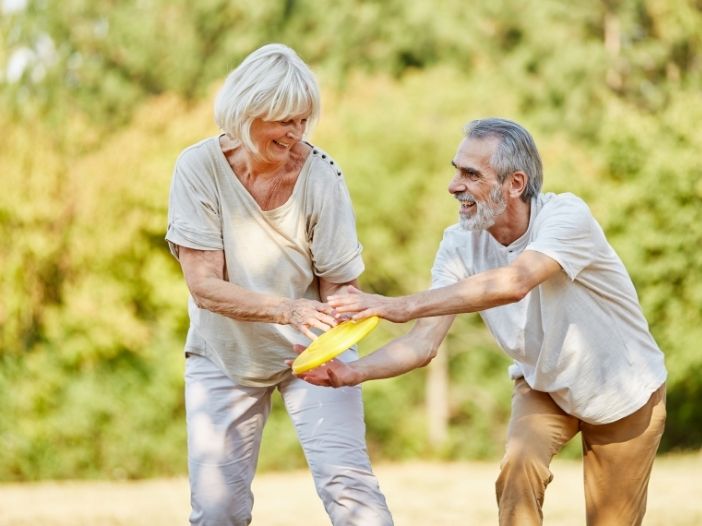 Group outdoor Games
Participating in outdoor activities can be a great way to relax and change the environment for a while. Seniors are encouraged to participate in outdoor games to socialize and also gain from the physical and mental benefits of group outdoor games.
Group outdoor games can be a great way for seniors to have fun, interact with other seniors, and also exercise their body. Some of group outdoor games for seniors include:
Badminton
Badminton is a great exercise that improves competitiveness among seniors and also serve as a medium to stretch their body.
Bocce
In this game, a set target is placed at a reasonable distance. Seniors win by hitting the target with the ball or rolling the ball at a closer proximity to the target than the opponent.
Lawn Bowling
Seniors are expected to get their ball closer to the jack more than their opponent's to win the game.