Growing up, we were taught to map out and plan our future visually. We all want a comfortable, successful, and happy life. To achieve that goal, we spend our younger years striving for the betterment of our academic achievements and career. We focus all of our energy and time on advancing and increasing our success.
People feel like there are so many things yet to be achieved, and yet so little time. You plan your college course, career path, relationships—pretty much everything in your life! However, what happens after all that hustling? After you achieve a successful life, what is next? You have not thought that far ahead, right?
Planning for retirement seems to be one of the most neglected parts of our lives. People tend to procrastinate because it looks like retirement is in the distant future that we do not need to worry about. But life is dizzying and fast. The next thing you know, you are already in our 60's, without any retirement plan at all.
According to the dictionary, retirement is the withdrawal from one's position or occupation or one's active working life. A comfortable retirement is achieved when you have enough savings, investments, and pension that can support you when you eventually decide to leave the workforce. Work will become optional as you enjoy life to the fullest.
You can only do that if you put more energy into your health during retirement, as you did with your savings.
Remember, a healthy retiree is a happy retiree. No amount of money can make you happy if your health is poor. Here are ways on how to stay healthy during retirement:
Brain/Mental Health
Transitioning into retirement can be a little confusing at first. There is still a stigma in society when it comes to mental health. We have not put much thought on the psychological and mental effects retirement might have on us.
After a year or two of being retired, you may somewhat feel a little lost in life. You might become bored, feel like you have no purpose because you are no longer working, or worse—depressed.
Always remember that everything that you are feeling right now is valid and very reasonable!
Refocus on new interests and hobbies like gardening, golf, exercise, and crochet. Establishing a routine is also essential. Do volunteering work, run a small business, or take short courses to create a new sense of purpose.
Reconnect with family, friends, and the community. A connection is a critical element in healthy mental well-being. Develop healthy relationships by planning a weekly cup of coffee with friends, scheduling family gatherings, joining community activities, and groups.
You can develop a new skill or get back to a hobby you loved during your teenage years. You can try painting, drawing, writing, and so on. The key is to find something that you can concentrate on that makes you happy and satisfied. It can also keep your brain active to avoid cognitive decline.
Just because your career has ended does not mean that you have lost your value. Your life is more than just your career and achievements.
Do not be scared to explore and try something new until such time that you have found a purposeful activity that can add purpose to your life.
As much as you prioritize your mental health, you should also keep your physical brain healthy.
Educate yourself formally or informally. You can enroll in short courses or teach yourself hobbies that also stimulate brain activity. Challenge yourself through activities such as chess, crossword puzzles, reading novels, and writing journals, among others.
Research shows that brain function declines as we age. It is a natural occurrence, whether you retire or not. But it is somewhat healthier to have a calm and relaxing, but challenging environment than a stressful and mentally draining workplace.
Take a moment and relax your brain.
Heart Health
Aging can predispose other people to certain diseases, especially heart problems like heart attack, stroke, or coronary heart disease. But that does not mean you can't have a healthy heart as you age.
According to NIA, aging can cause changes in the heart and blood vessels. For example, the heart cannot beat as fast as when you were young, increase the stiffness of the arteries, and increase the hardness of the arteries that can cause hypertension. There are several lifestyle changes to ensure a healthier heart.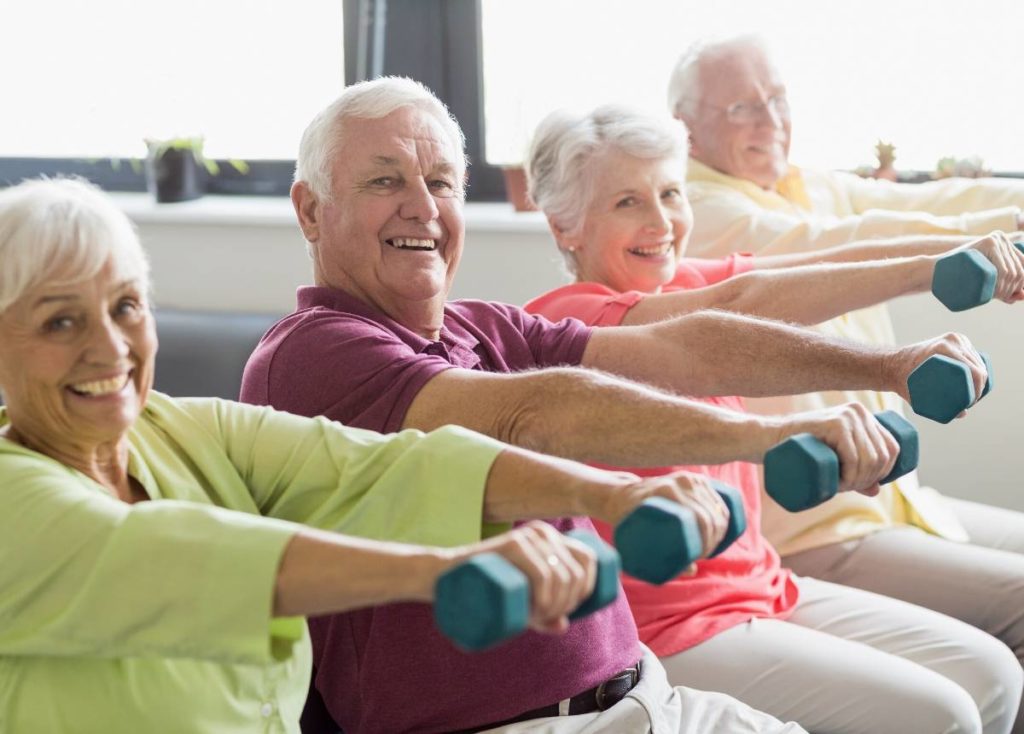 Stay physically active! It does not have to involve vigorous exercise. Start with something simple like walking or jogging. You can enroll in dance classes or take Zumba lessons. You get to have fun and be healthier as well. Regular physical activity helps your heart work more efficiently (in pumping blood throughout your body). It also improves your weight, strength, and helps you to stay agile as you age.
Eat right! Regular exercise accompanied by a poor diet will lead you nowhere. Eating a variety of nutritious foods helps you prevent heart disease, as well as high cholesterol and diabetes. Eat fewer salts, reduce saturated fats, added sugar, and cholesterol-containing food. Load up on fruits and vegetables. Make time for breakfast and build a heart-healthy meal. Try these foods: oatmeal, whole wheat toast, salmon, tuna, sardines, yogurt, low-fat milk, and so on.
It is time to quit smoking and alcohol intake. It can worsen any heart or health conditions that you may have. Smokers are twice as likely to suffer a heart attack as those who have never smoked. Alcohol increases blood pressure, causes arrhythmia, or abnormal heart rhythms, and it destroys your kidneys.
Find your happy place. Surround yourself with a nurturing environment. Studies show that laughing every day reduces stress hormones, raises levels of your high-density lipoprotein (also known as good cholesterol) and decreases the likelihood of inflamed arteries in the heart.
Do regular visits to your doctor to manage your heart welfare. Keeping your blood pressure, cholesterol, blood sugar, and triglycerides in check is good for the heart.
Joint Health
According to WebMD, a joint connects two bones. Joints, as well as their surrounding structures, let you flex and bend various parts of your body like knees, elbows, head, and hips. Aging can wear and tear your joints, causing damage to it, and this can lead to arthritis.
Joints should be taken care of and be kept stable together with your bones and muscles.
The first thing to do is to be aware of your body. Regardless of whether or not your joints display any symptoms or pain, you should enlist the help of your doctor and do regular check-ups.
Get moving! Fewer movements can make the joints stiff. Exercise, stretching, and take short walks regularly. Stretching can also improve your balance and flexibility — work in maintaining a proper posture. Good posture means less stress to your joints.
Clean your diet! Consume healthy foods that can keep your joints healthy like vegetables, turmeric and ginger, green tea, and foods rich in fish oil. Fish oils contain omega 3 fatty acids that are helpful for joint pain. Foods rich in fish oil are as follows: salmon, sardines, chia and flax seeds, soybeans.
More importantly, listen to your body. Know your limitations. Be sure to ask a trainer or a physical therapist for an appropriate exercise routine and diet for you.
Muscle Health
A recent study showed that age-related muscle strength and mass loss would continue to create a significant economic impact if exercise, dietary, or exercise interventions are not implemented. A consequence of aging is the loss of skeletal muscle mass.
A sedentary lifestyle will do you no good. One hundred fifty minutes a week of low impact, moderate aerobic exercise is beneficial to your overall health. It is also essential to do a warm-up and cool down before and after doing any physical activity. It will keep your muscles in check.
You can also opt for a massage every now and then. Aside from the soothing and relaxing gratification that it provides, it can reduce muscle soreness and swelling, increase your flexibility and mobility, and improve blood circulation.
Rest is also beneficial. Do not overwork yourself on exercises and push yourself beyond your limit. Rest gives your body time to recover after a workout. During resting state, your muscles repair, adjust, and grow themselves, while bones are also rebuilding themselves.
Eat a balanced diet. Stay hydrated. Water flushes out the bacteria and toxins in the muscles, and it decreases joint pain by keeping the cartilage soft. You may also need to cut back on your caffeine as much as possible. Too much caffeine makes the body unable to absorb calcium (that is necessary for stronger bones). Muscles cannot work alone, and they need bones for them to be able to function well.
Taking a multivitamin every day can also help to provide you with the essential vitamins and minerals that are vital for muscle strength.
Take a holistic approach to ensure your overall well-being.
Vision Health
Poor eyesight is so prevalent that even kids as young as six years old are diagnosed with eye problems, and need glasses to aid their vision.
Aging, most definitely, is accompanied by vision loss or vision-reducing problems. You cannot stop poor eyesight, but you can do preventive eye care to contribute to long-term vision.
A visit to an eye care professional or ophthalmologist is the best way to check and protect your eyesight. It is also a much easier precaution to take. These specialists can detect eye problems like glaucoma, cataract, and diabetic eye disease in their early stages.
A healthy diet for healthy eyesight – Foods rich in antioxidants, Vitamin C and A, omega 3 fatty acid, copper, zinc, and beta carotene are good for vision and reduces the risk of age-related eye problems. Foods like green leafy veggies, salmon, eggs, tuna, legumes, and nuts, fruits like oranges, and lemon are excellent sources of these vitamins and minerals.
Quit smoking! – It increases oxidative stress that contributes to the development of debilitating eye diseases.
Avoid excessive exposure to radiation like blue light. Take a break from using the computer or cellphone every 20 minutes. Adjust its lighting to a minimum. Prolonged exposure can cause eye strain, dry eyes, and blurry vision.
Wear protective eyewear in doing certain activities that can harm the eyes or when doing activities under the sun's harmful ultraviolet rays.
Lastly, get a good night's sleep to keep your eyes well-rested.
Hearing Health
Hearing loss is a common problem in older people. Aside from age, it can also be caused by prolonged exposure to loud noises and ototoxic medications. Although it is not life-threatening, healthy hearing must be prioritized because it can significantly influence your confidence and quality of life.
Aside from consulting a doctor, there are other ways to protect your hearing.
Use earplugs around loud noises. Turn the volume down to a minimum when you are using audio devices with headphones or earphones.
Stop using cotton swabs frequently. A little wax in your ear is not harmful, but instead protective. Regularly removing wax can leave your ears vulnerable to dust and infection.
Be careful of what medication you put into your body. There are several antibiotics and anti-cancer drugs that can cause hearing damage. Make sure your doctor knows so he can balance the treatment.
Hearing loss can also affect social and emotional relationships. There would be a breakdown in communication and a reduction in shared activities. Negative emotions will then arise like isolation, low self-esteem, frustration, resentment, and loss of companionship.
According to the Lancet Commission on Dementia Prevention, Intervention, and Care, and the University of Wisconsin-Madison, untreated age-related hearing loss may lead to brain atrophy that can ultimately lead to developing the risk of dementia and Alzheimer's disease.
Seek out a quiet place and give time for your ears to relax. Hear better. Live better.
Emotional Health
Every transition is hard at first. Retirement can be emotionally struggling, but the key to get through is to know how to manage it.
The first few months of retirement can be exciting and freeing, but there will come a time when you will miss the "old you." You will miss the jam-packed schedule, the busy hours, your colleagues, and the scheduled routine. You will miss the feeling of responsibility and commitment.
First, allow yourself to feel all these things that you are feeling. Suppressing your emotions would not do you any good. Look for healthy ways to deal with these feelings like yoga, group therapy, and writing.
Set small goals and establish a routine. It might be losing weight, traveling abroad, accomplishing a new hobby. These goals might be a little different from your career milestones, but they are as equally important.
You can also find a job in your local community. A less stressful job and something that you are passionate about. It is also a great way to meet new people and build healthy relationships.
Adopting a pet can also be beneficial for your emotional health. Aside from the warmth and love that it gives, it can also be a source of emotional support and can be a faithful companion. Adopting and loving a dog, cat, or even a turtle can bring back your sense of purpose.
Spiritual Health
The joy of retirement is that you will have plenty of time for other essential aspects of your life. Since you are so busy with your studies and career during your younger days, you may not have much time for your spirituality.
Find different ways you can volunteer or give back to your family in retirement.
Connecting with your spirituality is not about religious practices. It can be as simple as being present at the moment, appreciating the beauty of life and nature, or finding happiness at the most mundane of things.
Regardless of the methods you use, spirituality is about your perspective at life itself.
None of us knew that retirement could be a roller coaster ride. It can be fun and freeing at first, then scary and empty the next.
Conclusion
Remember that you are not retiring in life. You are merely refocusing all of your energy on things that truly matter. You have so many options and opportunities ahead of you. The fantastic part is that you are not tied down by a job now. Your job does not define you. You're just you.
You may be so used to your busy life and career that you let it define who you are. You let it define the purpose of your existence. Life is not about the overarching career milestone, work promotions, and money. Life is so much more than that.
Living with freedom and enjoying life's infinite possibilities is a purpose in itself. Embrace the concept that rest, recovery, and reflection are essential parts of the progress towards a successful and happy life.